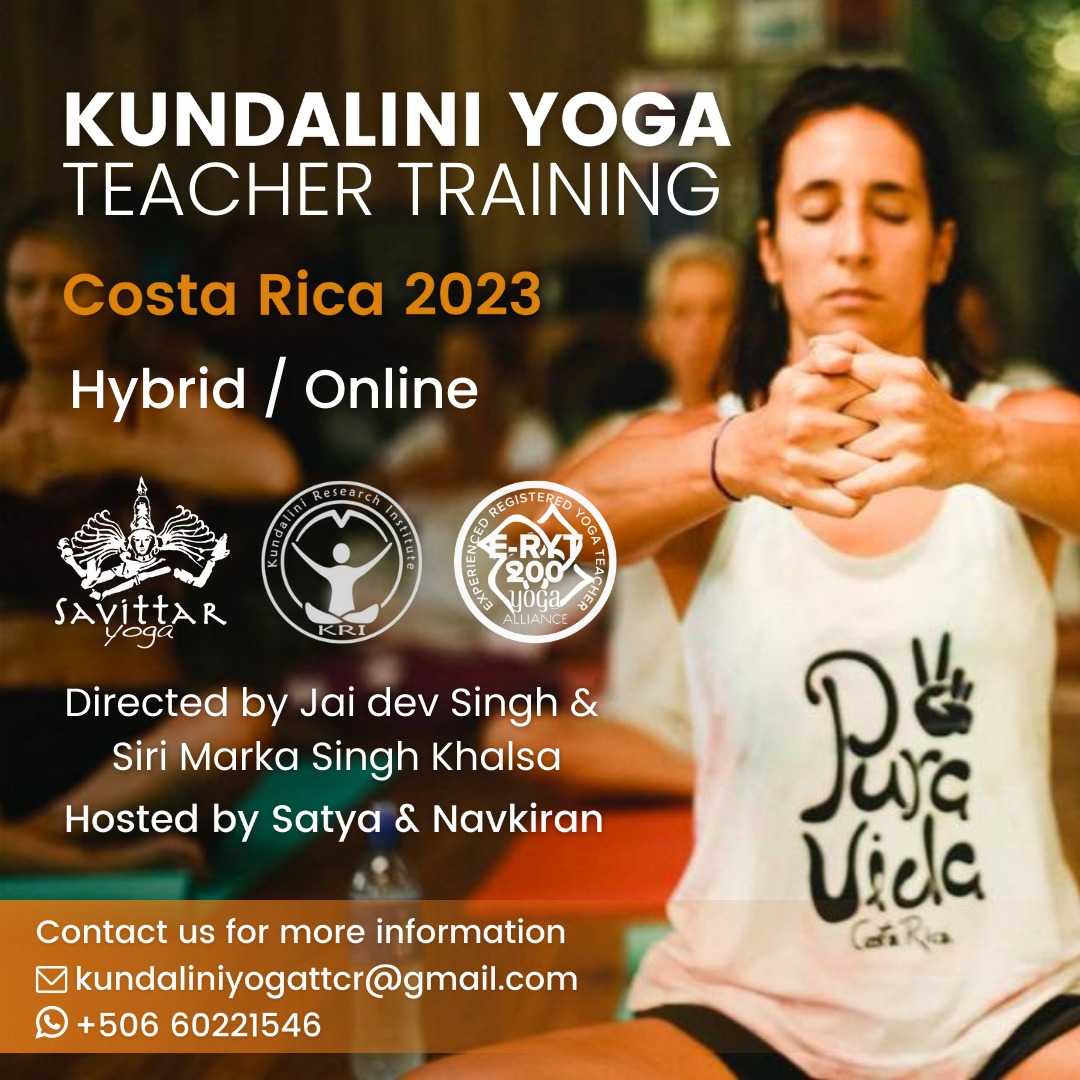 KUNDALINI YOGA TEACHER TRAINING LEVEL I
Hybrid and 100% Online Format
Kundalini Research Institute USA – Yoga Alliance International – India
Training Objectives
To impart a Training as a Kundalini Yoga Teacher of excellence in the human and technical aspects.
Promote a process of deep self-knowledge in the participants.
The course is of a theoretical-practical nature, theoretically the course includes expository classes, group discussion sessions and supervision of classes and cases. In practice, the modules include morning Sadhana sessions, kriyas and advanced meditations.
The academic contents are delivered in detail, in the personal registration interview.
Adding to the training classes themselves, students are encouraged to practice at least twice a week, online or in person.
The Kundalini Yoga Instructor Training is certified by the Kundalini Research Institute USA and Yoga Alliance International – India.
Asanas and alignment for Kundalini Yoga Kriyas

Western Functional Anatomy
Value of the Training:
Total Value of the KYTT is 2.222 USD. For the first 10 people to register or until May 31th 2023 their is a 10% discount saving 222 USD total prices with the discount is 2.000 USD.
*During the interview, the characteristics of this training will be explained in detail and the contents and requirements for international certification will be provided.
Kundalini Teacher Training dates 2023:
October:

Module I 28 & 29 Hybrid (Online or in Costa Rica)

November:

Module II 3, 4 & 5 Hybrid (Online or in Costa Rica)
Module III 25 & 26 Online

December:
January 2024:

Module V 6 & 7 Online
Module VI 20 & 21 Online
February

Module VII  3 & 4 Hybrid (Online or in Costa Rica)
Module VIII  9, 10 & 11 Hybrid (Online or in Costa Rica)
Note: Hybrid means will be face to face in Puerto Viejo, Limón Costa Rica and at the same time will be transmitted online via Zoom, if the time zone doesn't allow you to be present online at that specific time we could sent the recording of the day but this one must be seeing during the first 48 hours since available so you can align with the group teachings.
Register for more information